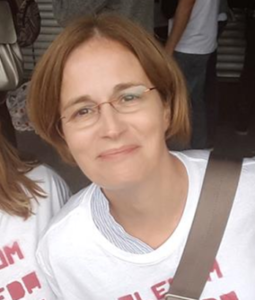 PERSONAL INFORMATION
Mirjana Tonković
Scientist's Identification Number: 257112
Personal Web-site: Mirjana Tonković (FFZG)
Croatian Scientific Bibliography (CROSBI) profile: Mirjana Tonković (CROSBI) 
EDUCATION
2011 PhD, Faculty of Humanities and Social Sciences, University of Zagreb
1007 MA, Faculty of Humanities and Social Sciences, University of Zagreb
CURRENT POSITIONS
Assistant Professor, Faculty of Humanities and Social Sciences
PREVIOUS POSITIONS
2001-2003 market researcher, VIPnet d.o.o.
2000-2001 market researcher, Podravka d.o.o
SCHOLARSHIPS AND AWARDS
"Bujas golden medal" for graduate thesis – Croatian Psychological Association
PhD AND POST-DOCTORAL STUDENT SUPERVISION
TEACHING ACTIVITIES
Practicum in Psychology 2, Practicum in Psychology 3, Statistics in Psychology 1, Statistics in Psychology 2. I also teach the course Psychology of language.
ORGANISATION OF SCIENTIFIC MEETINGS (if applicable)
INSTITUTIONAL RESPONSIBILITIES
2015-2106 – member of the faculty council
2014 – member of the Ethical commettee of the Department of Psychology
MEMBERSHIPS
– member of the Croatian Psychological Association
– member of the Croatian Psychological Chamber
member of the European Association for Cognitive Psychology (ESCOP)
Reviewer for Contemporary Psychology, Review of Psychology, Psychological Topics and Aging and Mental Health
NOTABLE SCIENTIFIC COLLABORATIONS
Dr. sc. Kristina Štrkalj Despot, PROJECT: Croatian Metaphor Repository
436 total views, 1 views today
This post is also available in:

Hrvatski (Croatian)